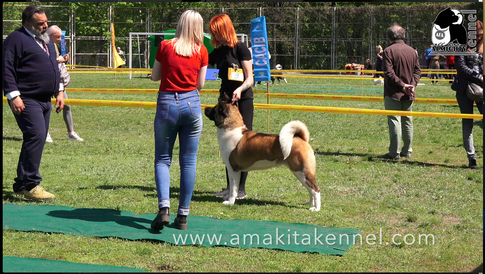 American Akita FREYA - ALL FOR ALMIGHTY BEVERLY HILLS!
American Akita Kennel ANGOL AMERICAN DREAM kennel and ALL FOR ALMIGHTY kennel presents a litter from a star pair of champions - 4 girl and 4 boys.
Parents of puppies are breed champions, all ancestors are the best representatives of the breed and champions of the USA, Great Britain, Russia, Ukraine and many other countries. The father is checked for the quality of the offspring, has several promising litters.
Dogs of an exceptionally correct format, strong, bony, powerful, have beautiful heads, strong, wide backs. A distinctive feature is a wonderful friendly character, active, calm, person-oriented, easy to educate, very positive.
Both puppies and parents have a good dense undercoat, symmetrical and bright colors, expressive dark muzzles.
Puppies are fed on a mixed balanced diet, are constantly supervised by people around the clock, all the necessary treatments have been carried out. Litter is promising for exhibitions and breeding.
The kennel patronizes its graduates, helps in the cultivation and planning of an dogshow career.
Delivery in Ukraine and abroad.
Puppies are in Kharkov, Ukraine.
DAM's pedigree - http://www.pedigreedatabase.com/akita/dog.html?id=2689179-all-for-almighty-beverly-hills-freya
JUNIOR GRAND CHAMPION of UKRAINE
JUNIOR CHAMPION of MOLDOVA
JUNIOR CHAMPION of UKRAINE
JUNIOR CHAMPION of RUSSIA
CHAMPION of UKRAINE x 2
CHAMPION of MOLDOVA
CHAMPION of RUSSIA
B.B.B.
SIR - Amikus X-Clusive Tanais Always Winner - pedigree - http://www.pedigreedatabase.com/akita/dog.html?id=2653482-amikus-xclusive-tanais-always-winner
C.I.B.
BBB x 2
CHAMPION of UKRAINE x 5
CHAMPION of RUSSIA
CHAMPION of BELARUS
CHAMPION of MOLDOVA
CHAMPION of ESTONIA
CHAMPION of LITHUANIA
CHAMPION of BULGARIA
CHAMPION of CZECH REPUBLIC
CHAMPION of SERBIA
GRAND CHAMPION of BULGARIA
GRAND CHAMPION of MOLDOVA
CHAMPION of BREED 2018 in UKRAINE
BALKAN CHAMPION
LITTER PAGE
https://www.amakitakennel.com/puppies/litter-d-15-02-20-keks/
e-mail
elen.chekalina@gmail.com
tel. +38 097 9139314
Viber, WhatsApp
OLENA CHEKALINA
VIDEO ABOUT MOTHER OF AMERICAN AKITA PUPPIES