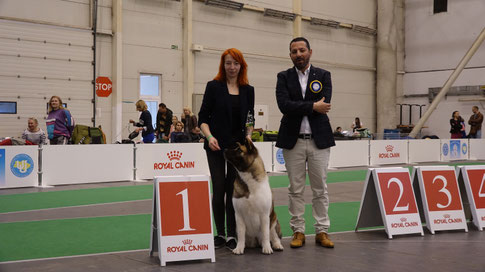 Ukraine 2019
Kari Jarvinen - Finland
FCI344 (J/USA). AMERICAN AKITA


American akita breed :::  IDS UKRAINE 2019 ::: KYIV 21 april 2019
https://www.amakitakennel.com
=====
BABIES - https://youtu.be/wtRemRopB7Q
PUPPIES - https://youtu.be/6ZSFdO7ITgk
JUNIORS - https://youtu.be/Xp9YC4669kQ
MALES - https://youtu.be/2p6e6ACxa70
FEMALES - https://youtu.be/AZmPbw74AGQ
=====
elen.chekalina@gmail.com
+380979139314  Viber WhatsApp
ALL FOR ALMIGHTY kennel
American Akita
https://www.amakitakennel.com
=======


Международная выставка собак в Киеве - УКРАИНА 2019, порода американская акита



BABIES
PUPPIES
MALES
Females
BOB/BOS
Ukraine 2019
Kari Jarvinen - Finland
FCI344 (J/USA). AMERICAN AKITA
MALE – Baby
850    ANKOR STYLE GEORGEOUS BREYN
CB.KCY d.o.b. 24.11.2018, FAWN & WHITE, TANTSIURA IRYNA, KYIV, UKRAINE
Sire. EXTREME PEARL RIVER LUCY'S SECRET, CMKU/VJP/803/17, UKU.0335208, KOVALENKO NATALIA
Dam. ANKOR STYLE BEAM IN THE BAY AMANDA, UKU.0268006, ANDRIUSHKO KOSTIANTYN
851    QUICKSTEP DANCER KATTYVAL
UKU.0397431 d.o.b. 25.10.2018, FULVOUS, SENATOS GANNA & RUDNIK KATERYNA, BILOHORODKA, KYIV reg., UKRAINE
Sire. STRONGWOLF THE GODFATHER, KCC 455103, UKU.0282404, SENATOS GANNA
Dam. BELIVE IN A DREAM, UKU.0174502, RUDNIK KATERYNA
FEMALE – Baby
852    LANCOME LYUBOV ZEMNAYA
CB.KCY d.o.b. 31.10.2018, RED&WHITE WITH BLACK MASK, RADCHENKO ANDRII, KYIV, UKRAINE
Sire. ABSOLUTE MARVEL, RKF 4238913, UKU.0263220, NESTEROVA SVITLANA
Dam. ILNAKO VENERA, RKF 4692469, UKU.0306302, NESTEROVA SVITLANA
853    LORIBLU LYUBOV ZEMNAYA
UKU.0401794 d.o.b. 31.10.2018, RED&WHITE WITH BLACK MASK, PEREGUDA MYKOLA, KYIV, UKRAINE
Sire. ABSOLUTE MARVEL, RKF 4238913, UKU.0263220, NESTEROVA SVITLANA
Dam. ILNAKO VENERA, RKF 4692469, UKU.0306302, NESTEROVA SVITLANA
854    QUADRILLE RECKLESS KATTYVAL
UKU.0397432 d.o.b. 25.10.2018, FULVOUS, SENATOS GANNA & RUDNIK KATERYNA, BILOHORODKA, KYIV reg., UKRAINE
Sire. STRONGWOLF THE GODFATHER, KCC 455103, UKU.0282404, SENATOS GANNA
Dam. BELIVE IN A DREAM, UKU.0174502, RUDNIK KATERYNA
MALE – Puppy
855    TAKHI LOOK IN YOUR HEART KATTYVAL
CB.KCY d.o.b. 17.09.2018, DARK GREY&WHITE, RADCHENKO ANDRII, KYIV, UKRAINE
Sire. TRIUMF SIBIRI ALWAYS WIN KATTYVAL, RKF 4778562, UKU.0327712, SENATOS GANNA
Dam. KIARAZ DESIGN'S SPOTLIGHT ON ME, DK12570/2015, UKU.0255045, RUDNIK KATERYNA
FEMALE - Puppy
856    AM'FASHION BRIGHT ABBY ZOV SERDTSA
CB.KCY d.o.b. 21.10.2018, GREY&WHITE PEREGUDA MYKOLA, KYIV, UKRAINE
Sire. SERDTSE VOINA ETAN, RKF 4693072, UKU.0314446, PEREGUDA MYKOLA
Dam. DIOR BEAUTY HOUSE AZIJOS MAGIJA, LSVK GJD 0326/15, UKU.0263463, PEREGUDA MYKOLA
857    ANKOR STYLE FABULOUS TREASURE
CB.KCY d.o.b. 19.08.2018, FULVOUS&WHITE, TANTSIURA IRYNA, KYIV, UKRAINE
Sire. EXTREME PEARL RIVER LUCY'S SECRET, CMKU/VJP/803/17, UKU.0335208, KOVALENKO NATALIA
Dam. ANKOR STYLE ANOTHER ONE BLACK DIAMOND BETTY, UKU.0262514, ANDRIUSHKO KOSTIANTYN
858    ASYA BLACK DECKER
CB.KCY d.o.b. 12.10.2018, RED&WHITE FEDIRKO OLEKSANDR, SVITLE, ODESA reg., UKRAINE
Sire. DYNAMIC FORCE CUT ME SOME SLACK, NHSB 3016218, UKU.0256533, ONISHCHENKO TETYANA
Dam. JAPONSKIY SAD HOPE TO WIN, RKF 4351851, UKU.0313443, FEDIRKO OLEKSANDR
859    SAMIRA ON CLOUD NINE KATTYVAL
CB.KCY d.o.b. 09.09.2018, FULVOUS&WHITE, RADCHENKO ANDRII, KYIV, UKRAINE
Sire. GUNNAR URSINE TRIBEFOR KATTYVAL', RKF 4010191, UKU.0216640, SENATOS GANNA
Dam. SONDAISA NATURAL SELECTION, AKC WS50541004, UKU.0321133, SENATOS GANNA & COLLEEN SULLIVAN & RUDNIK KATERYNA
MALE – Junior
860    ANKLAV FAV FORBES
CB.KCY d.o.b. 24.04.2018, RED&WHITE, KOLOMIITSEVA TAMARA, KYIV, UKRAINE
Sire. ZABARDAS DAHAB AKITA VILLA, BCU 344-000136, UKU.0234890, KOLOMIITSEVA TAMARA
Dam. COSA NOSTRA PRINCESS BUDUR, UKU.0221587, KOLOMIITSEVA TAMARA
861    DARK KNIGHT RISES KONCHA ZASPA
UKU.0363082 d.o.b. 15.02.2018, BLACK&WHITE, USOVA IRYNA, ODESA, UKRAINE
Sire. BORN TO WIN KONCHA ZASPA, UKU.0276520, ONISHCHENKO TETYANA
Dam. ABAMA BARAKA KONCHA ZASPA, UKU.0189727, ONISHCHENKO TETYANA
862    FAITER GAIN COLLECTION
RKF 5189651, UKU.0378204 d.o.b. 14.02.2018, BLACK&WHITE, YANCHENKO VOLODYMYR, KYIV, UKRAINE
Sire. TAN-RO SIBERIAN SUCCESS IN BLACK, RKF 4352169
Dam. NEKMAR GORGEOUS STYLE GO FAITER, HR 10126 AA, RKF 4203196
FEMALE - Junior
863    ANKLAV FAV FEMIDA
CB.KCY d.o.b. 24.04.2018, BLACK&WHITE, KOLOMIITSEVA TAMARA, KYIV, UKRAINE
Sire. ZABARDAS DAHAB AKITA VILLA, BCU 344-000136, UKU.0234890, KOLOMIITSEVA TAMARA 
Dam. COSA NOSTRA PRINCESS BUDUR, UKU.0221587, KOLOMIITSEVA TAMARA
864    DAYA GO AHEAD ONLY
UKU.0371715 d.o.b. 25.05.2018, BLACK&WHITE TANTSIURA IRYNA & BERNATSKYI VIACHESLAV, KYIV, UKRAINE
Sire. ANKOR STYLE ARDENT BROOKLYN, UKU.0262510, ANDRIUSHKO KOSTIANTYN
Dam. LASSIE NELSON, UKU.0289259, SADKOVA OKSANA
865    ELAINE BLATH KONCHA ZASPA
UKU.0373756 d.o.b. 17.05.2018, SILVER FAWN&BLACKOVERLAY&WHITE, DUDAR VOLODYMYR, KYIV, UKRAINE
Sire. BORN TO WIN KONCHA ZASPA, UKU.0276520, ONISHCHENKO TETYANA
Dam. DYNAMIC FORCE SUPERNOVA, NHSB 3016222, UKU.0256532, ONISHCHENKO TETYANA
866    NO DIVAS CAN YOU KEEP A SECRET
VDH 143266/AC17/01401219, UKU.0364907 d.o.b. 28.11.2017, BROWN&WHITE, YANCHENKO VOLODYMYR, KYIV, UKRAINE
Sire. DYNAMIC FORCE CHIEF OF STAFF, NHSB 3057097
Dam. CELEBRE'S BOMBSEHLL OF REGALIA, AKC WS45908901, FRIEDERIKE & FLORIAN SCHLICHT
867    VALENCIA BEAUTY OF SPRING KATTYVAL
UKU.0369216 d.o.b. 04.04.2018, BROWN&WHITE, NETYKSHA DENYS, VITA POSHTOVA, KYIV reg., UKRAINE
Sire. GUNNAR URSINE TRIBEFOR KATTYVAL', RKF 4010191, UKU.0216640, SENATOS GANNA
Dam. MISAE GIVING THE WARMTH KATTYVAL, UKU.0215071, RUDNIK KATERYNA
MALE – Intermedia
868    ANATA SONE NOTABLE ATOM
BCU 344-000324, UKU.0367574 d.o.b. 28.09.2017, RED&WHITE, PANKRATIEVA OLENA, KYIV, UKRAINE
Sire. MOREDO SHAKA DE VIRGO, KCC 404183, RKF 3626857
Dam. ANGELONATO BE MAIN, BCU 344-000169, LUZHBINA YULIYA
869    SABURUKO TARGET PRACTISE
KC AU04211303, Exp.H62091, UKU.0385670 d.o.b. 06.07.2017, RED&WHITE, BARDACHENKO OLEH, KYIV, UKRAINE
Sire. RUTHDALES NOTORIOUS, KCSB 3866CV.KC AL02127701
Dam. SABURUKO'S DEADLY SINS, KC AQ03287501, COOK M.C.&P
870    SAYMON
UKU.0332296 d.o.b. 11.07.2017, FAWN & WHITE, HULEY YRIY, RIVNE, UKRAINE
Sire. HIT FOR KONCHA ZASPA TOP-EFFECT, UKU.0178655, MARTYNIUK YURII 
Dam. BONITA AMAS KARI, UKU.0243827, MOTRUK P.V.
MALE – Open
871    BARTEK
UKU.0229364 d.o.b. 09.02.2015, BLACK&WHITE, CHEKALINA OLENA, KHARKIV, UKRAINE
Sire. RAYF SHALIMAR BIFOTAUN, UKU.0174702, KOROSTEL' S.A.
Dam. VIVID GIRL AIRATBEG, UKU.0164224, KOROSTEL' S.A.
872    DOGART LINE FAVORITE OF FORTUNE
UKU.0300876 d.o.b. 25.09.2016, BLACK&WHITE BUNEVYCH OLEH, KOZYN, KYIV reg., UKRAINE
Sire. ADAMANT VIRON FOR DOGART, UKU.0188398, SENYSHYN V.T.
Dam. DOGART LINE DELL-TORA, UKU.R.0034107, KALAHURKA SOFIIA
873    EDVIN GRIZZLY BEAR KATTYVAL
UKU.0305683 d.o.b. 29.10.2016, RED&WHITE, KOPACH KATERYNA, KYIV, UKRAINE
Sire. RESTYL-ING DYNAMIC DRIVE, RKF 4096637, UKU.0232807, SENATOS GANNA
Dam. MISAE GIVING THE WARMTH KATTYVAL, UKU.0215071, RUDNIK KATERYNA
874    SERDTSE VOINA ETAN
RKF 4693072, UKU.0314446 d.o.b. 03.09.2016, GREY&WHITE, PEREGUDA MYKOLA, KYIV, UKRAINE
Sire. SERDTSE VOINA BARS, RKF 3626133, ALYABYEV A.V.
Dam. AIKUAIVEN ENITEN RIVAKKA, RKF 4040323, OLEYNIKOVA VALENTINA
MALE – Champion
875    ANATA SONE MAZHOR
BCU 344-000292, UKU.0367575 d.o.b. 14.03.2017, BROWN&WHITE, PANKRATIEVA OLENA, KYIV, UKRAINE
Sire. INDEVOR COLD AS ICE, RKF 3977314, BCU 344-000291
Dam. KINDNESS TO YOU, RKF 3911685, BCU 344-000234, LUZHBINA YU.
876    ANKOR STYLE CROWN JEWELS
UKU.0315993 d.o.b. 24.12.2016, RED&WHITE, TANTSIURA IRYNA, KYIV, UKRAINE
Sire. DYNAMIC FORCE GO BIG OR GO HOME, NHSB 2990739, UKU.0248555, ANDRIUSHKO KOSTIANTYN
Dam. DYNAMIC FORCE DUTCH DESIGN, NHSB 2910485, UKU.0172304, ANDRIUSHKO KOSTIANTYN
FEMALE – Intermedia
877    SIBERIAN HUNTER DAISY-BEAUTY
RKF 5106656, UKU.0379826 d.o.b. 05.12.2017, RED&WHITE, BOLOZOVYCH OLENA, KYIV, UKRAINE
Sire. VIVALOTTARA OLAF VELEKT, RKF 4696982
Dam. SIBERIAN HUNTER ALICIA, RKF 4352827, SOKOLOVA I.V.
878    ZALTANA ISN'T SUBJECT TO BEGINNERS KATTYVAL 
UKU.0337985 d.o.b. 23.09.2017, BROWN&WHITE, SENATOS GANNA & RUDNIK KATERYNA, BILOHORODKA, KYIV reg., UKRAINE
Sire. GUNNAR URSINE TRIBEFOR KATTYVAL', RKF 4010191, UKU.0216640, SENATOS GANNA
Dam. OLISSIYA SHOWY GIRL FOR KATTYVAL, RKF 4066380, UKU.0226656, RUDNIK KATERYNA
FEMALE – Champion
879    ILNAKO VENERA
RKF 4692469, UKU.0306302 d.o.b. 05.07.2016, FAWN & WHITE, NESTEROVA SVITLANA, KYIV, UKRAINE
Sire. TRIUMF SIBIRI LARGUS LIMIT IZ SKY, RKF 4141355 
Dam. ILNAKO CHARA, RKF 3122757, KOPANEVA N.B.
880    JAPONSKIY SAD HOPE TO WIN
RKF 4351851, UKU.0313443 d.o.b. 15.09.2015, RED&WHITE, FEDIRKO OLEKSANDR, SVITLE, ODESA reg., UKRAINE
Sire. TORAZO'S MYTHICAL CRUSADER, RKF 4204075, AKC 42994502 
Dam. JAPONSKIY SAD A LOT TO WIN, RKF 3946378, LAVROVA A.


=====
BABIES - https://youtu.be/wtRemRopB7Q
PUPPIES - https://youtu.be/6ZSFdO7ITgk
JUNIORS - https://youtu.be/Xp9YC4669kQ
MALES - https://youtu.be/2p6e6ACxa70
FEMALES - https://youtu.be/AZmPbw74AGQ
=====
elen.chekalina@gmail.com
+380979139314  Viber WhatsApp
ALL FOR ALMIGHTY kennel
American Akita
https://www.amakitakennel.com